COVID-19 Study,
Wave 3 by Carenity:
Carenity, part of the EvidentIQ Group, is a leading socical platform supporting 500,000 patients and caregivers worldwide, across 1,000 chronic and rare diseases.
In our April 2021 study we wanted to find out more about fears and motiviation for vaccination and the impact of stress and isolation for chronic patients.
Why we conducted this study:
Carenity's mission is more than ever to support its patient community and help healthcare actors quickly access the best data to provide the best care to patients.
While attention is primarily focused on those affected by COVID-19 the risk of poor, insufficient access to care for chronic patients is real, with potential dramatic consequences.
We asked 3,553 patients from the USA and Europe, and these are their answers.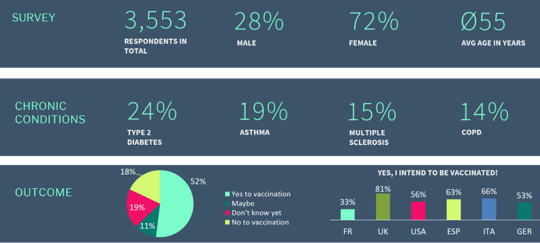 Will chronic patients be the collateral victims of the epidemic?
What are their fears about the COVID-19 vaccine?

How do they feel about social isolation?

Do those patients need more information about the special risks they face?